LNG
LNG – Liquefied Natural Gas – has been on a strong and global growth course for years. Due to a significant expansion of liquefaction and regasification capacities in recent years, more and more LNG volumes come onto the international sales markets. As a result, LNG trading is increasing and will continue to grow in the coming years. Additional liquefaction capacities being under construction, mainly in the USA and Australia, will provide the market with further LNG volumes.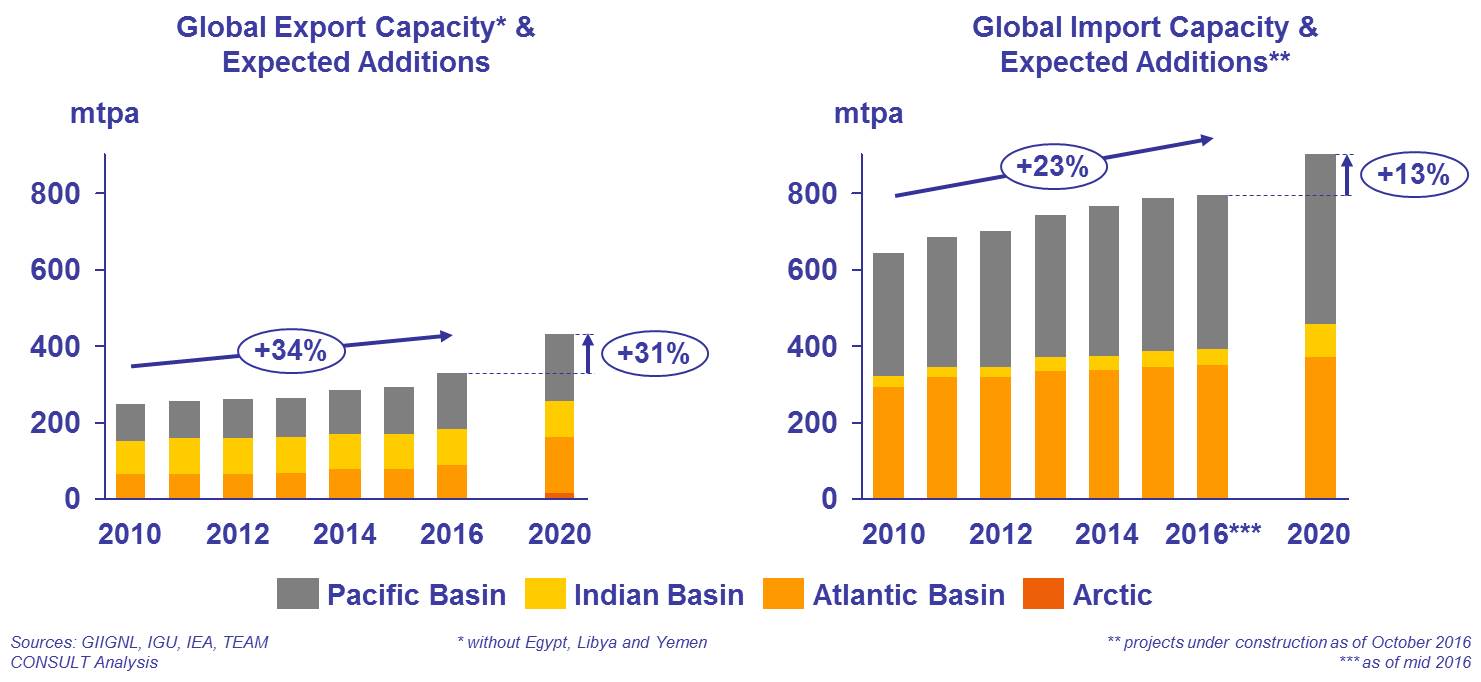 The primary sales market for LNG is traditionally located in the Asian-Pacific region. Here, demand increase has fallen short of expectations. Thus, prices for LNG have dropped and, in parallel, a process towards energy market liberalisation has begun. These developments have not only impacted the Asian sales markets but also the international markets for natural gas.
In consequence, the following changes may arise:
LNG, as a flexible source of supply, could build a price link between global gas markets, so that LNG prices in Asia and Europe continue to converge.
The liberalisation of the Asian LNG markets will lead to greater transparency and to an implementation of additional trading points with a growing importance of hub prices.
Asian long-term contracts for supply of LNG, which are predominantly linked to oil prices, come under pressure. Contract and price adjustments will become necessary.
For contractually agreed volumes that cannot be sold in Asia, new sales markets have to be found.
New LNG contracts will be concluded which include smaller volumes, greater flexibility and shorter durations.
European LNG market
In the past, LNG has played an important role in South European markets. Yet, LNG is also becoming increasingly important in North-West Europe which has mainly been supplied by pipeline gas so far. This development is reflected in the LNG and Gas Storage Strategy of the European Union from February 2016 which considers the dynamic development of the global LNG market as an opportunity for the energy supply and the competitiveness of the EU. Due to a strongly declining gas production, LNG is supposed to play an important role in the diversification and improvement of a secure supply of natural gas. A new and growing market segment is small-scale LNG for use of LNG as clean and environmentally friendly fuel in the shipping industry and in road-based heavy-duty traffic.
But there still remain many questions to be answered. How much LNG can the European gas market absorb and how do these volumes impact on the supply competition, especially with regard to pipeline gas from Russia and Norway? From which countries does the export of LNG make economic sense and how are US LNG suppliers going to position themselves? What is the actual potential for small-scale LNG in Europe? Which LNG import terminals should be used to best bring LNG volumes into the market? Does Germany need an own LNG infrastructure?
Consulting services
In the context of the global changes in the LNG markets, we offer the following consulting services:
Support in contract negotiations:

from the preparation and negotiation, as well the conclusion of a LNG contract,
to the renegotiation of contractual conditions due to a price adjustment or other requests,
through the assistance in different roles before and during arbitration proceedings for dispute resolution.

Market and competition analyses, as well as development of market strategies for LNG producers, buyers and infrastructure operators
Potential analyses and strategies for market entry into the European small-scale LNG market
Support in regulatory matters
Market analyses regarding access to European LNG import terminals
Support in technical and commercial issues concerning investment decisions into LNG assets
Reports on aspects regarding the overall supply system, e.g. LNG as part of security of supply