Energy transition
Since the introduction of the Renewable Energy Act (EEG) in the year 2000, Germany has seen a steady and significant expansion of renewable energy capacities for power generation and heat supply.
Installed renewable power generation capacity in Germany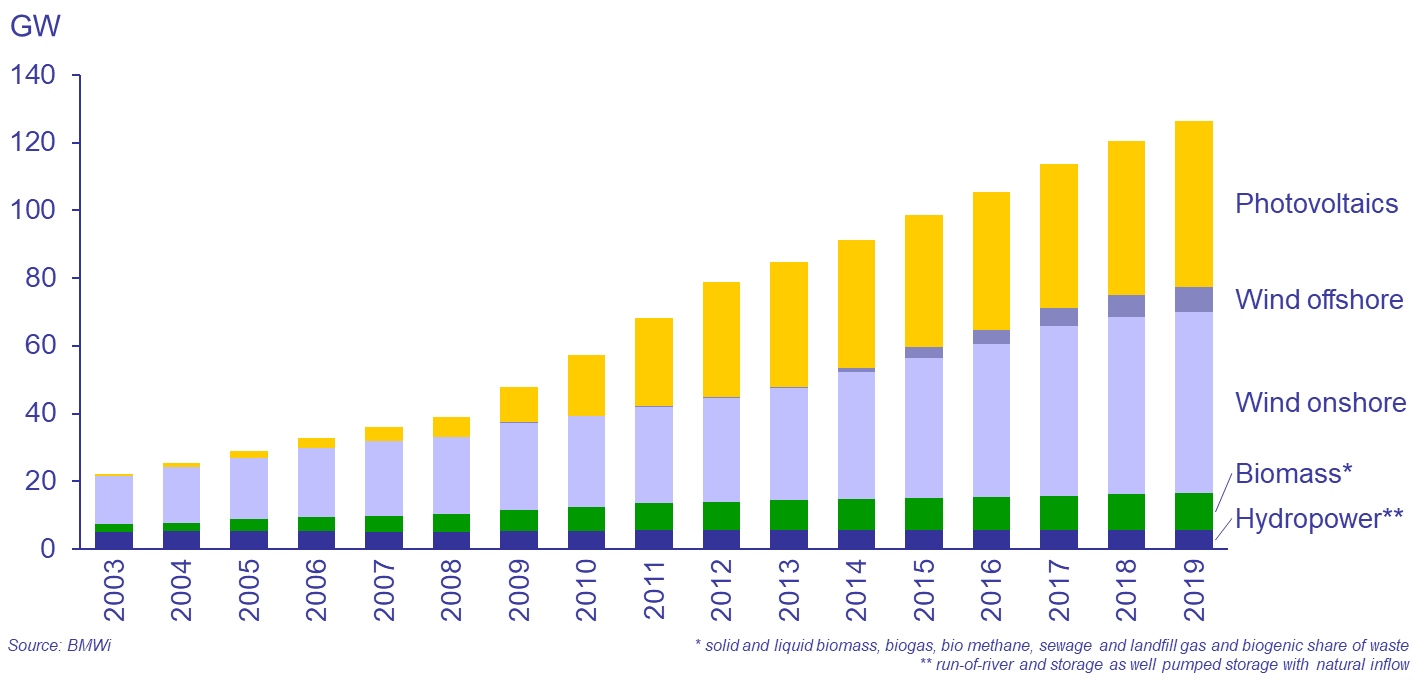 Germany's expansion of renewable energies is often referred to as a role model in the international context. At the same time, however, many problems for the entire energy system become apparent: Management of load fluctuations caused by renewables in the power grid has become a difficult task for the grid operators, curtailment of renewables has substantially increased and costs for renewable expansion (to be borne by end customers) have risen from year to year since introduction of the EEG. Planned power grid expansion for transport of renewable power to the consumption centres will lead to enormous costs.
Under these circumstances, operators of conventional power plants have to face a difficult economic situation. Full load hours of conventional plants have decreased significantly over the last 10 years (see figure below). A decreasing utilisation puts pressure on the value of existing plants, impacting the extent to which necessary reinvestments are evaluated before realization.
Full load hours of conventional power plants in Germany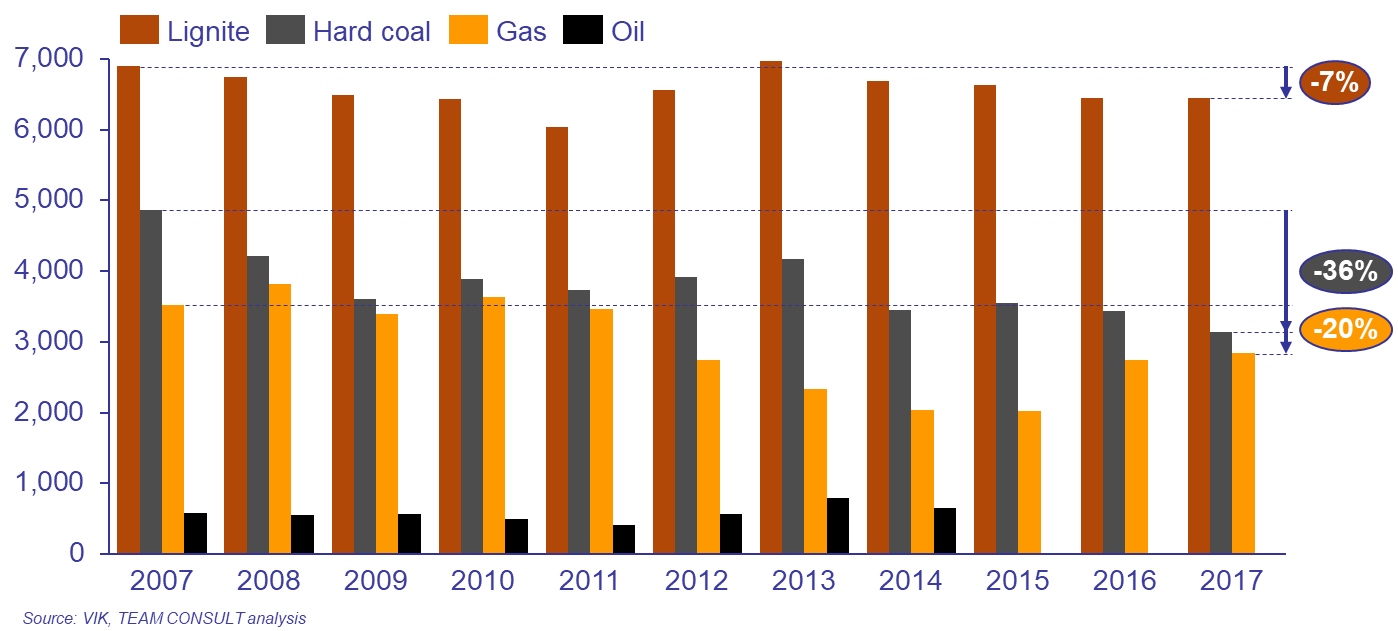 In the near future, however, conventional power plants will be needed to safeguard a reliable power supply in a system affected by highly fluctuating feed-in of renewable energies. Furthermore, combined heat & power generation (CHP) is considered to be an important element of the Energy Transition and enjoys legal support.
Moreover, in the last couple of years, the energy industry has experienced a dynamic innovation process never seen before. This will drive further actions of decision makers as well as market structures. New competitors from other industries, equipped with a strong capital base and a focused on innovation are getting into the German energy market.
Uncertainty about future development paths is high. These new conditions are involving new challenges on many established energy suppliers to adapt their business models and corporate culture.
In this context, TEAM CONSULT offers the following consulting services:
Support of the preparation and implementation of auctions of wind, photovoltaics, biomass and combined heat & power plants
Due Diligence for investments in conventional and renewable power and heat generation plants
Business models and asset management strategies for power plants in the context of the Energy Transition (conventional and renewable, in particular for repowering of wind farms)
Strategies for realigning and focussing the business activities of energy suppliers in accordance with national and international climate protection goals
Preparation of repots for commercial negotiations and legal disputes related to the remuneration of renewable power and cooperation agreements
Workshops and technical visits for international actors with interest in the German Energy Transition, especially with regard to the integration of renewable energies into the energy system